Virtual Career Expo
All Industry Virtual Spring Career Expo
February 25
10am - 2pm
Expo Details
This event is open to all Mercer students and alumni.
The All Industry Virtual Career Expo will be held in Handshake. Employers are able to host two types of sessions to interact with students: 
Group Sessions:

30 minutes each
multiple students can attend

1:1 Sessions:

10 minutes each
one student and one employer representative can attend
Need assistance during the Expo? Join a CCPD staff member in our Zoom Help Room from 9 am - 2 pm. 
Virtual Career Expo Student Program - This document shows a Roster of Recruiters, Recruiters by Academic Interest, and Virtual Expo Available Group Sessions. 
---
Information for Students and Alumni
Registering and signing up for sessions 
In order to sign up for sessions with employers, you must be registered for the expo. 
To sign up for Group or 1:1 sessions, you may be prompted to update your profile privacy setting. We recommend using Community to make the most of your Handshake experience, as this will allow you to participate in all fair sessions and engage with other students/alumni!
Review which employers are attending the expo (follow employers you want to check back in with)!
You'll be able to sign up for sessions up to one(1) minute before the start time; once the session has started, you'll be unable to sign up for the session.
Preparing for the expo
Here are some best practices to help you prepare for a successful expo: 
Ensure you have the right setup to support session audio and video. (Chat is available in all sessions.)

Check out Virtual Fairs: Accessibility to see how we've made virtual expos more accessible and for how you can partner with your Career Center & Handshake to request an interpreter for upcoming sessions.

Complete your profile
Upload a resume to your profile, if you haven't already!

Tip: After uploading, click the blue button Feature on Profile to make the document public - when you sign up for sessions, this will allow the employer to view your resume!
Participating in the expo
All sessions will have the option for Handshake video, audio and text based chat. There is no customization for types of interaction; it is up to the employer and student joining the session to determine how they would like to connect.
See details on day-of participation in Participating in a Virtual Fair.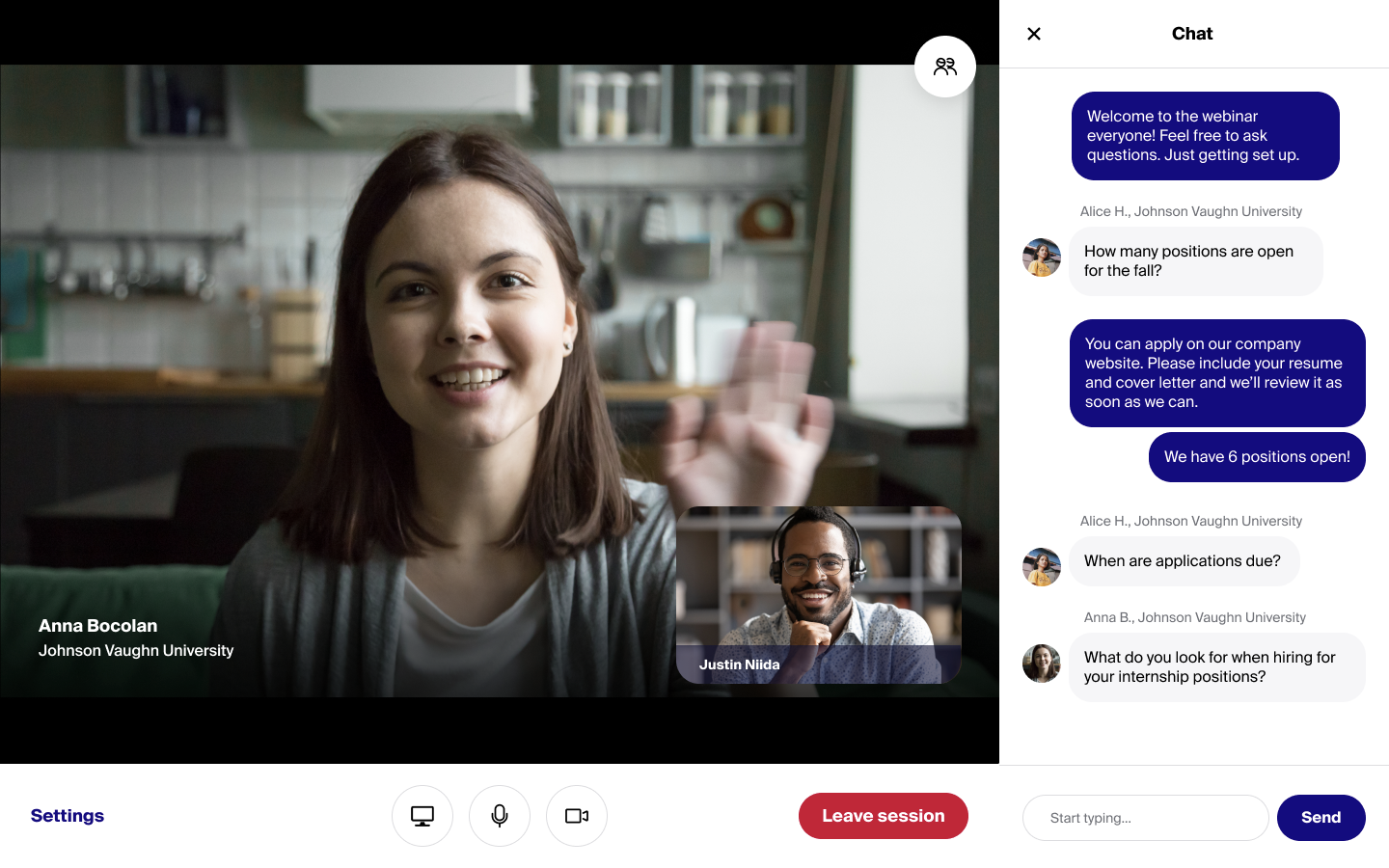 As long as you're signed up for the session successfully, you'll be able to join up to 5 minutes prior to the session start and throughout the duration of the session. 
Tips for Student Success
Is this your first time attending a virtual career fair? Don't worry, you are not alone. Below you will find some expert advice on how to excel in a virtual recruiting environment.